From Iceland Weather Report Blog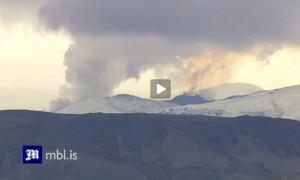 by alda on March 21, 2010

So, as far as I know there is nothing new on the eruption situation in Iceland.

Just to recap: It started around midnight last night and was most forceful between 7 and 8 this morning. Since then it has subsided a bit. All residents in the area – around 450 people – were evacuated and police closed off roads to all but those who absolutely needed to pass. In other words, no tourists or casual onlookers were allowed.

Incidentally, as many of you will know, the eruption is actually on one of Iceland's most popular hiking routes – Fimmvörðuháls. This blog has photos of the area before the eruption [taken on a hike] as well as a more detailed map of where it is probably located.

The main concern now is that the volcanic activity will move further to the west, which will place the eruption underneath the glacier and will cause flooding as the ice cap melts. It does, in fact, seem like this may be happening, according to a geophysicist at the Icelandic Met Office. Thus there is still a state of emergency in effect and residents will not be allowed back home just yet.
© Alda